It's Canada's 146th birthday today, and in celebration, I thought I'd write a quick list of my favourite Canadian books. This list is in no way exhaustive and is in no particular order, but is more of a compilation of titles and authors that come to mind.
Anne of Green Gables, L.M. Montgomery
Of course this book must be included. The classic tale of orphaned Anne going through all the trials and tribulations of life in an idyllic Prince Edward Island setting. I remember liking how much Anne worked to make life as she wanted it to be, even with her many setbacks. It's no wonder that this book has stood the test of time.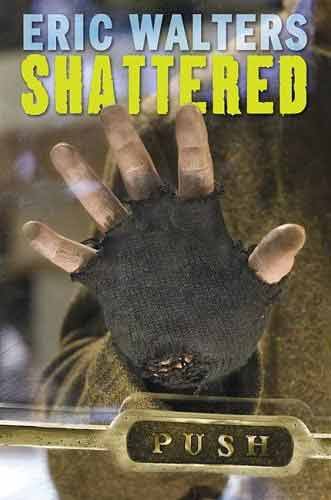 Shattered, by Eric Walters
This is such a powerful book about how those who have never been on the front lines can be affected by wartime atrocities and must ask what they can do to help. Walters has a frank writing style that makes you feel as if you are the main character, listening to Jacques describe his time as a member of the Armed Forces in Rwanda. This is a novel that would elicit meaningful and complex discussions in a middle or high school Social Studies.
Growing Pains: An Autobiography, by Emily Carr
Yes, I know she's probably more famous as a painter, but when she could no longer trek out to the wilderness to paint her larger than life creations she wrote about her lifetime of experiences. Emily wrote several books, but her autobiography has always been my favourite. It's a wonderful memoir of a woman who was so unsure about so many aspects in her life, and the one thing that kept her moving and forced her to make life decisions was that she wanted and needed to make art. It seems only fitting that the most written about Canadian artist should be able to have her own say.
Shhh! Canadian Scientists and Inventors Rule, by Diana Crutchley
From acetylene to zipper, learn all about uniquely Canadian inventions in this science ABC book. I have been to two of Diana Crutchley's literacy workshops, and have come away from both with fun and informative ideas to try in the classroom. This book fits in with my impressions of the workshops. It's a quick and enjoyable read, and is a worthwhile purchase for a middle school classroom.
Terry, by Douglas Coupland
I'll admit it, throughout most of my childhood I knew Terry Fox was brave and determined, but I just didn't get all the emotion that surrounded his run. Terry passed away when I was one month old, so I wasn't one of the Canadians glued to the screen as he made his historic run, or donating money at the impromptu telethon once the run abruptly stopped. But this book by Coupland made me get it. The pictures interspersed throughout Terry's story made me understand just how monumental Terry's undertaking was, and how his efforts should not be forgotten. Now I use this book every year right before the Terry Fox Run, so my students will be able to get it too.
The Breadwinner, by Deborah Ellis
For me this book was always an introduction for students about how other children were forced into terrible situations that they must overcome. Every time I read this book I become struck at how Parvana wants her old life back, but is slowly coming to terms with how this is now the way life must be in Afghanistan. This is another book that would provoke complex and thoughtful discussion in class. Of course, after you read The Breadwinner, Parvana's Journey and Mud City must come next to you can complete the entire trilogy.
The Secret of Grim Hill, by Linda DeMeulemeester
When you have a class read-aloud that the students refuse to have you put down, you are going to appreciate the book. There is nothing more Cat wants to do than go to the Grimoire private school in her new town, and when she learns that the champions of a soccer match will be given the opportunity to enroll she just has to win the game. However, something supernatural is happening in Grim Hill, and Cat's soccer victory could be her undoing. This is the first of five books, with a sixth promised soon, and my only complaint is that the sixth is taking so long to be published.
Happy reading, and happy Canada Day!